Welcome to Lake City Lake. We formed this blog because our hometown, Madison, Wisconsin, is entirely unrepresented in the internet fashion community. To be honest, that's probably for a reason: dressing up here means putting on pants with a zipper. Flip-flops are considered proper wedding guest attire. Madison is notorious for its lax dress code and frankly, we're tired of being asked why we're "dressed up" today. It's time to represent and prove that not all of fashion in Madison is snowsuits and mom-pants.
Lake City Lake
is a term coined for our great city, the only city built on an isthmus.
Let the flogging begin (flog: fashion blogging).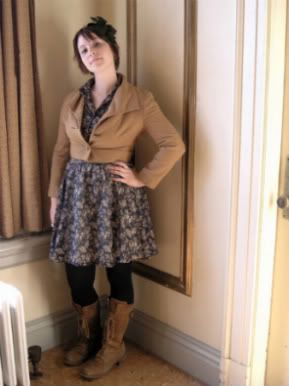 bolero: vintage
dress: tailored, vintage
tights: target
boots: timberland
headband: anthropologie
Rachel!
I grew up wearing hand-me-downs from my cousins who lived in Northern Wisconsin. There were a lot of embarrassing sweatpants involved. Today, sweatpants are still involved but now they're awesome, not cringe-worthy. You see, half the time I look like shit and half the time I look awesome. And I really don't give a crap. My closet bursts with vintage cocktail frocks, blouses and wigs but sometimes I just feel like wearing a tshirt and some m-f'ing jeans. That last sentence makes Maddie want to puke; I usually try to reserve my cute days for when I see her.
The other thing is bizarre comfort. Well, comfort most definitely, but a lot of times it's bizarre. I like huge knit sweaters that go past my knees and look like they're for an overweight clown from the 70s. In the winter, I never take off a series of knit hats. This season I added one to my collection that makes me look like a polar bear.
My thing is just to wear whatever the ass you want as long as it's interesting. Being a fashionable person doesn't mean looking like you were just photographed by the Sartorialist every day; it means trying different things and finding what works for you.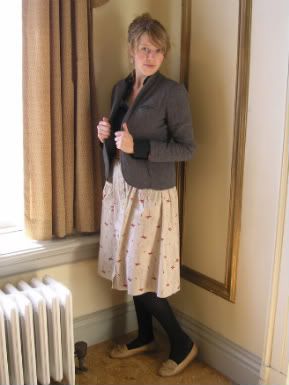 1950's wool blazer: vintage
black button-down: express
skirt: ok47
tights: don't know
loafers: thrift
Maddie!
My hobbies include talking like Katherine Hepburn, talking like T.S. Eliot, and talking like Mae West. I should probably tell you that those are all the exact same voice. When I'm not talking like this, I like to dress up. Like my repertoire of voices, most of my style inspiration comes from the past and I have a collection of vintage dresses that can never be big enough.
I don't like to be pigeonholed when it comes to fashion. I try to dress however I feel that day. This is the reason that I don't own any comfort clothes—the majority of days I feel pretty damn lazy and keeping a closet full of sweatshirts and leggings would just be too tempting. Instead I find myself waking up and thinking, "today I want to look like Jean Seberg in Breathless" or "can I work a Depression era cloche with 1960's cigarette pants?"
Contrary to what Rachel may think, I do not hate jeans and t-shirts. I just hate jeans and t-shirts on me. To this day, I've only been able to find one pair of jeans that look good on my very pear-shaped body. I have what them hip hop rappers call the "apple booty." And I've just compared myself with two separate pieces of fruit. Anyways, I'm super jealous of girls who look cute in pants.
For me, the most important thing in fashion is to just have fun with it and never take it too seriously. Dressing up should be enjoyable and is a fantastic opportunity for self-expression and creativity. That being said, let me wow you. You just got Maddied.
P.S. If you like us, please consider adding us to your blog roll! Thanks!